Glamirror mirror a game-changing smart sensor mirror
Hibella is thrilled to announce the official debut of the Glamirror, a game-changing smart sensor mirror that simulates natural sunshine.
Glamirror is a hands-free, extremely sensitive smart motion sensor light that was created to improve the daily cosmetics application experience.
The product has a unique, removable design and comes with a lovely, custom-made travel bag for simple storage.
Bella Pisa, Co-Founder of Hibella, believes that in everyday life, sparse and dim lighting conditions lead makeup to be applied excessively liberally.
"Without correct lighting, our makeup will be wiped out by shadows and the vibrancy of our colors would fade.
Users will, however, benefit from the development of Glamirror, a smart mirror that simulates natural sunshine and automatically adjusts to changing lighting environments."

The Glamirror's full-rim light is 95 percent like natural sunshine and has configurable lighting options.
With over 95 CRI lighting and patent light guide technology, it gives 100 percent high definition to create the most natural look.
Glamirror uses medical-grade LED light for outstanding color rendering and low power usage.
There is no need to touch the Glamirror because it will turn on automatically when a face approaches.

The 8-inch 5x magnification mirror is ideal for up-close tweezing, eyebrows, eyeliner, or cosmetic application, with a design that sees the full face in incredible detail.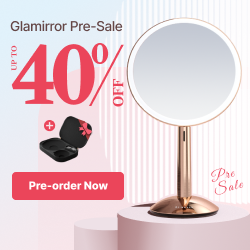 Hibella's Glamirror's Standout Features

- Full rim lights with natural sunlight simulation mirror
- Hands-free smart sensor for simple operation
- Light settings can be adjusted with the help of a smart smartphone.
- A 5x magnification for a more detailed look
- Individual lighting choices can be configured.
- Sleek detachable design makes it simple to store and transport.

Hibella's Background

Hibella is a smart tech firm that was created in 2017 and is committed to using cutting-edge technology and design to improve people's beauty lifestyles.
Glamirror, a smart sensor cosmetics mirror with natural sunlight simulation system, is one of the company's main products.

The Glamirror is great for beauty aficionados because it is cordless, rechargeable, and removable.
With Glamirror, you can effortlessly achieve a flawless and natural look by getting the best and most accurate reflection.